Manufacturing, Engineering & Construction
As a pivotal component of the global economy, manufacturing companies are in a crucial moment in time with the power to revolutionizing sustainable practices on massive scale. As demand for eco-friendly products and services increase, manufacturers can incorporate practices that reduce environmental footprint and encourage social responsibility, solidifying their place as digital market leaders.

Leverage smart, automated warehouse and logistics technology to lead the next generation of manufacturing. Avvale guides companies to become more resourceful, productive, efficient, and cost effective. Force multiplied by intelligent technology, manufacturers can create awareness through the entire sustainable value chain.
Market analysis
Portfolio planning
Demand creation
Selling products, services, outcomes
Marketing & Sales analytics
Production & Process optimization
Preventive & Predictive maintenance
Digital Twin
Machine as a Service
Computer vision for quality
WAGES optimization
Integration with SAP, MRP, MES systems (logistics, inventory, JIT use cases)
Product & Production Design
HPC workloads for EDA, CFD, crash simulation
Simulation model optimization with AI/ML and live performance model as baseline
Comparison of test performance data with product performance data from field
Condition monitoring of physical assets tested
ML for Demand Forecasting
ML for Supply Side Availability
Improved Inventory Management
Predictive Maintenance
Maschine as a Service
Remote diagnostics & over the air updates
Retrofit / Spare parts revenue opportunities
Manufacturing
innovation
From IIoT to Advanced Supply Chain Management.
Order mgmt
Supporting department in setup and manage orders
Stock projection
Alerts to monitor stock projection on material requirements, line production, in transit
Obsolescence mgmt
Alerts for stock no longer required / stock cost optimization
Planned order simulation
Simulation of stock projection related to order placement and deliveries projections
Track & Trace
Material track and trace system with end-to-end visibility for in transit materials
Industry 4.0 & Innovation
Evaluation, analysis and implementation of IoT sourced data in manufacturing plants
We're facing a data growth era.
Enabling Manufacturing Circular Innovation by:
Digitally executed manufacturing
Catalogue Generator
Enhance your company's content assets with exciting shopping experiences that engage your customers in every channel, from print to digital, thus reducing the gap between selling and storytelling.


Digital & Printed Catalogue
We optimize the catalogue creation process, from printed versions to a fully digital integrated catalogue.
InDesign integrated
Templating to ensure brand identity consistency
UI Automation to guarantee high quality pages look & feel
Collaborative: manage all the stakeholders of the process in the same platform
A bunch of mages, videos and integrations to make the whole content shoppable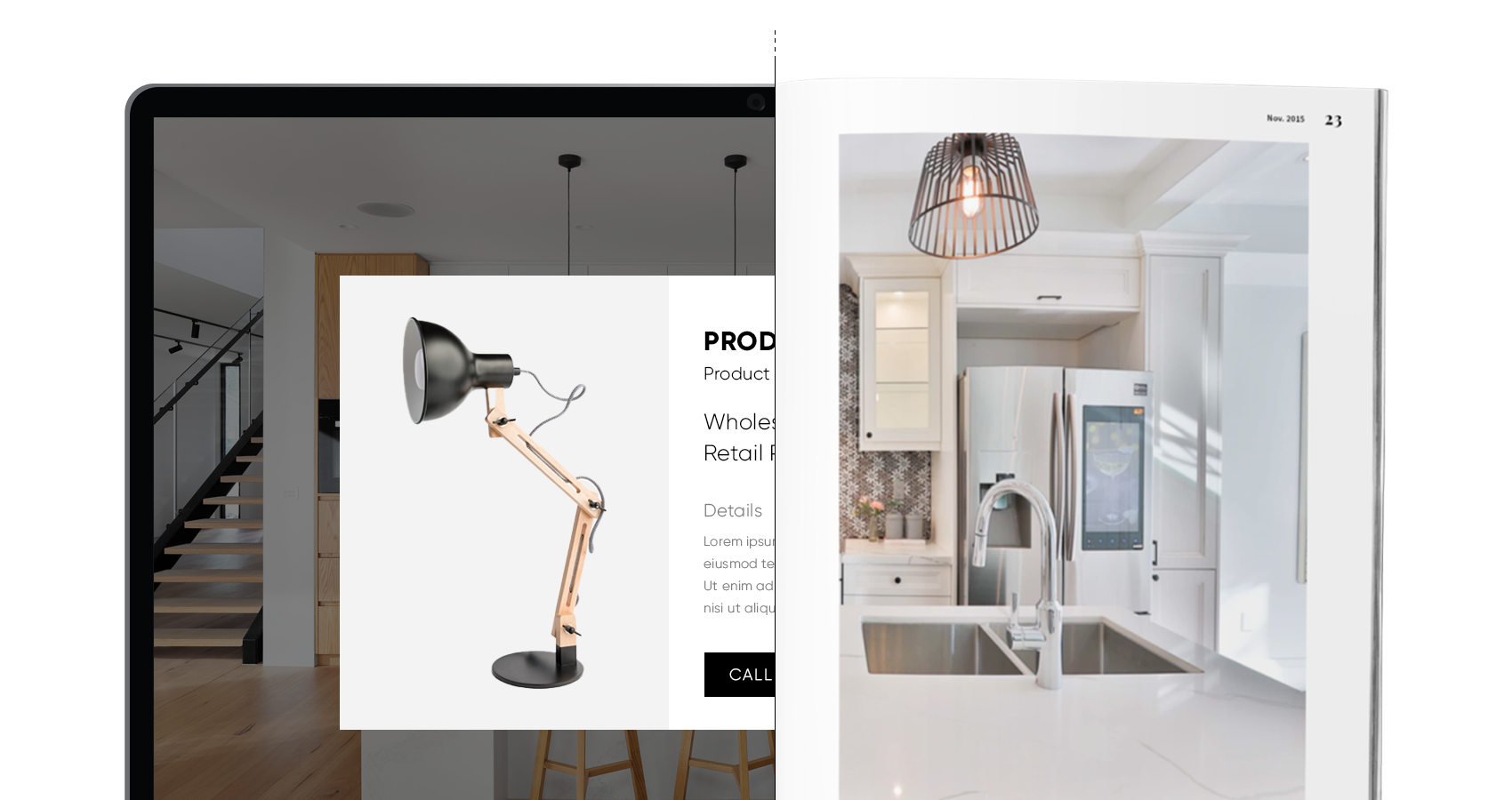 We believe in a digital innovation that is technology driven and human centered.
Our goal is to improve the quality of life of our clients and our clients' customers through the development of digital solutions that drive operational excellence and sustainable value for their extended ecosystem.